AUTUMN COLLECTIONS NOW AVAILABLE
ORDER BEFORE 1PM FOR SAME-DAY DELIVERY
AUTUMN COLLECTIONS NOW AVAILABLE
ORDER BEFORE 1PM FOR SAME-DAY DELIVERY
AUTUMN COLLECTIONS NOW AVAILABLE
ORDER BEFORE 1PM FOR SAME-DAY DELIVERY
AUTUMN COLLECTIONS NOW AVAILABLE
ORDER BEFORE 1PM FOR SAME-DAY DELIVERY




About Us
Design Element Flowers is co-owned By Neil and Anthony. We supply fresh "FLOWERS with PASSION and STYLE" to the Manchester area and worldwide via the Interflora relay service. We have been based in Irlam since 1981 and are proud to have a fully trained, well-qualified and experienced team that strives to give our customers the very best in service, style and design.
Design Element Flowers have won three RHS Chelsea Gold Medals 2003, 2003 and 2009 and Best in Show at the RHS Chelsea Flower Show, taking the inaugural RHS Chelsea Florist of the Year title in 2009.
Co-owner Neil Whittaker has studied all over the world, gaining his National Diploma of Floristry (NDSF) in 1998, and his American Institute of Floral Design (AIFD) qualification in 2000. In 2010 he won the Croatian National Championship, just days after finishing an impressive seventh in the world at the Interflora World Cup in Shanghai in 2010. Neil repersented the UK in Shanghai in the Interflora Worldcup 2010 and was placed 7th in the world and also became British Florist Association Florist of the Year 2007 and again in 2010. Interflora Florist of the Year 2007, 2011 and 2013 at Tatton Park RHS Show and went on to represent the UK in the Europa Cup Floristry Championships in the Czech Republic in September 2011 where Neil took the Bronze Medal in Europe. Neil also represented the UK at the Interflora World cup in Berlin in 2015 and was placed 1st Runner Up in the World.
Neil Whittaker is a seasoned competitor, with national and international titles and plaudits stretching back over many years, including fourth place (the best ever placing by a British competitor) at the Europa Cup in Slovenia in 2007, and second at the world floristry finals in Manila, Philippines in 2000. He also travels extensively both nationally and internationally, demonstrating his unique style and teaching floristry at all levels from absolute beginners to one-to-one tuition for experienced florists. Neil was very proud to be listed as one of the top ten florists featured in "The Independent On Sunday", and his work has also been published in many magazines over the years, including "The Best of British" and "The Spirit of the Rose" design books, along with industry journals, DVDs and online.
After several years working in international retail, co-owner Anthony Williams trained with Neil and has worked with him since 1990, gaining his NDSF qualification in 2004 and AIFD in 2005. He now demonstrates and teaches all over the UK and Ireland, and regularly tours Poland and Spain. His understanding of competition requirements is much in demand and he has assisted Neil and other UK representatives at international level including the World Cup, Europa Cup and Eurofleurs competitions.
Both Neil and Anthony are proud to be amongst the few florists to have both achieved these combined qualifications in the UK, and their belief in the value of training and qualifications was reflected in the Gold Medals won by the shop at the RHS Chelsea flower shows in 2003 and 2004, in addition to Neil's individual success in 2009.
They have been featured on many TV shows including "Shopping City", "The Sack Race", and "Lunch Time Live" and "The Flower Show" for UK Style, as well as on coverage of the flower shows at Chelsea and Tatton. They are also regular contributors to BBC Radio Manchester, and to floristry industry news/training media.
Anthony Williams NDSF AIFD FSF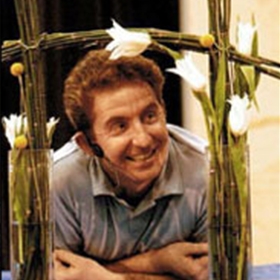 Neil Whittaker NDSF AIFD FSF